Events
15. Mar 2020
15. Mar 2020
Mar
15.
2020
New York City, USA
WSNY Fortieth Annual Seminar on Der fliegende Holländer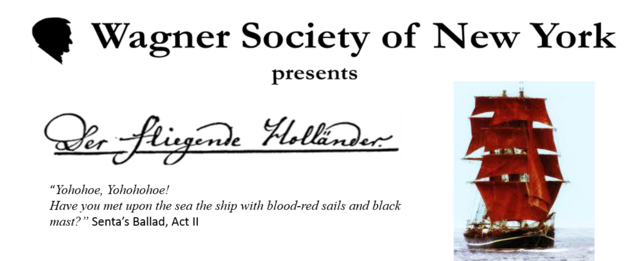 12 noon - 17:00
St Joseph's School
420 East 87th Street (between First and York Avenue)
New York
Our fortieth annual seminar highlights the new Met production.
With Victoria Bond, Prof. Peter Bloom, Prof. Hans Vaget, Joe Pearce, and Jeffrey Swann, Ph.D., and other specialists, and the Met Cast Roundtable.
Program (schedule subject to change) :
12:00–12:05 Introduction:
Victoria Bond, DMA, Moderator Composer (Clara, a chamber opera), international conductor/music director, lecturer
12:05–12:35 "Der fliegende Holländer: The Jewish Connection: Wagner and Heinrich Heine"
Hans Rudolf Vaget, Professor Emeritus of German Studies, Smith College
12:35–1:00 "Der fliegende Holländer: The French Connection
Peter Bloom, Professor Emeritus of Humanities and Music, Smith College
1:15–2:00 Roundtable with Metropolitan Opera Cast of Der fliegende Holländer
Hosted by Victoria Bond. Confirmed: Anja Kampe, Franz-Josef Selig
2:20–3:00 "Sentas: Known and Unknown"
Joe Pearce, President, Vocal Record Collectors Society
3:15–4:00 Der fliegende Holländer: New Perspectives and Productions"
Victoria Bond
4:15–5:00 "Wagner Discovers Beethoven: A new understanding, revolutionized in Der fliegende Holländer"
Jeffrey Swann, Ph.D., Concert Pianist and Professor, New York University
Books/Videos: Attendees receive discounts on all items.
Reservations and Fees: Advance paid reservations are advisable. Please pick up tickets at the door. Beverages and snacks included. Check in will begin at 11:30. Reserved seating for Seminar patrons; open seating for all others.
Further information
here
.