Events
7. Oct 2020
11. Oct 2020
Oct
2020
Frankfurt-am-Main, Deutschland
9. Internationale Dirigentenwettbewerb SIR GEORG SOLTI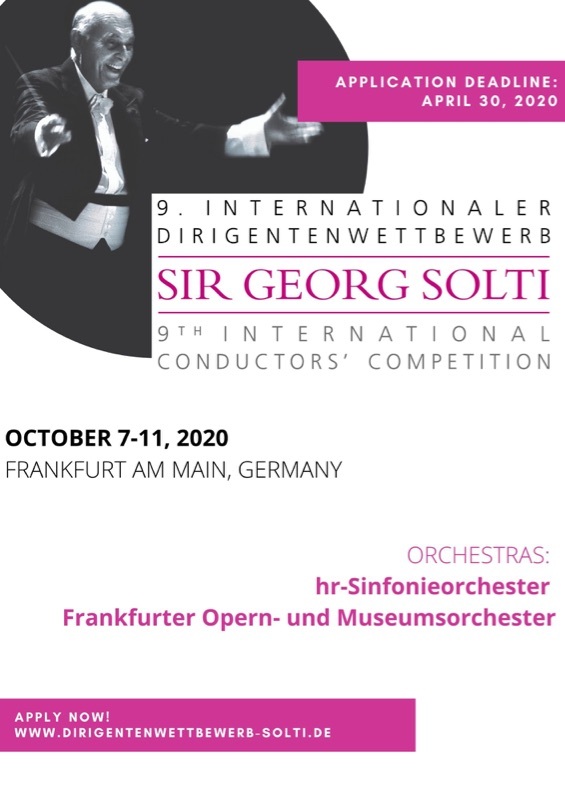 APPLICATION DEADLINE NOW 15 MAY!
Sehr geehrte Damen und Herren,
der 9. Internationale Dirigentenwettbewerb SIR GEORG SOLTI mit dem HR Sinfonieorchester und dem Frankfurter Opern- und Museumsorchester wird im Oktober in Frankfurt am Main stattfinden.
Bewerbungsschluss ist der 15 Mai 2020. Bitte leiten Sie diese Nachricht an junge Dirigenten in Ihrem Umfeld weiter.
Vielen Dank!
Dear Sir or Madam,
The 9th International Conductors' Competition SIR GEORG SOLTI will take place in cooperation with the Frankfurt Radio Symphony and the Frankfurter Opern- und Museumsorchester in October in Frankfurt am Main, Germany.
Application deadline is 15 May 2020. Please forward this message to young conductors.
Thank you very much!
Annemarie Burnett, Organisationsleiterin
c/o Frankfurter Museums-Gesellschaft e.V.
Goethestr. 32
D-60313 Frankfurt am Main
Telefon +41 76 536 39 93
info@dirigentenwettbewerb-solti.de
www.dirigentenwettbewerb-solti.de