Events
13. Mar 2022
13. Mar 2022
Mar
13.
2022
Edinburgh Society of Musicians and/or Zoom
WS Scotland 'Scandal in opera and in life'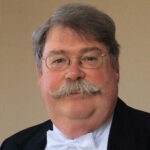 Alberto Massimo
As decades pass by, what is often deemed a scandal in one era can be perceived quite differently by another generation as norms and society changes. A headline such as "Downing Street has a Bastard" would never appear nowadays. Alberto Massimo, performer, maestro and lecturer specialist in Romantic Opera, will guide you through key moments in Wagner's life, which caused a scandal, including his constant borrowing and debts. Did these have an immediate effect on his musical compositions? Come and find out.
Maestro Alberto Massimo graduated BMus in trumpet, double Bass, and composition in 1984. He studied conducting and was Maestro di Capella at the Basilica di Santa Cecilia, and worked with principal singers at the Teatro dell' Opera in Rome. He obtained a postgraduate Diploma in Music at the University of Edinburgh in 1991 and was appointed Musical Director of the Edinburgh Chamber Orchestra.
Alberto has held a number of organist's posts in Edinburgh and is currently Director if Music at Greenbank Parish Church.
All meetings run 6:30pm to 8:30pm with a short break halfway through. To book, please visit our website Events page:
https://wagnerscotland.net/events/programme-autumn-2021-summer-2022/